The Artist
About Cathy Shepherd
Cathy Shepherd creates fused glass art pieces that reach beyond expectation, leaving her audience with a "wow factor" that has gained her national attention in the art world.
Inspiration for Cathy Shepherd's art is all around her, especially through her travels, whether she's scuba diving in Tahiti or visiting colorful, tropical destinations around the world.
Learn More About The Artist
ARTIST STATEMENT
How the earth and all things are interconnected fascinates me and provides an endless flow of inspiration. I see the world as a giant mosaic, rich with luminous colors, textures, organic shapes, sounds, and energy. These elements inspire me and fuel my soul to create what seems to come alive on the glass canvas.
It is with great respect and honor that I can create these interpretations. I hope to stimulate emotions of peace, love, and energy but ultimately encourage others to create their own unique "dance".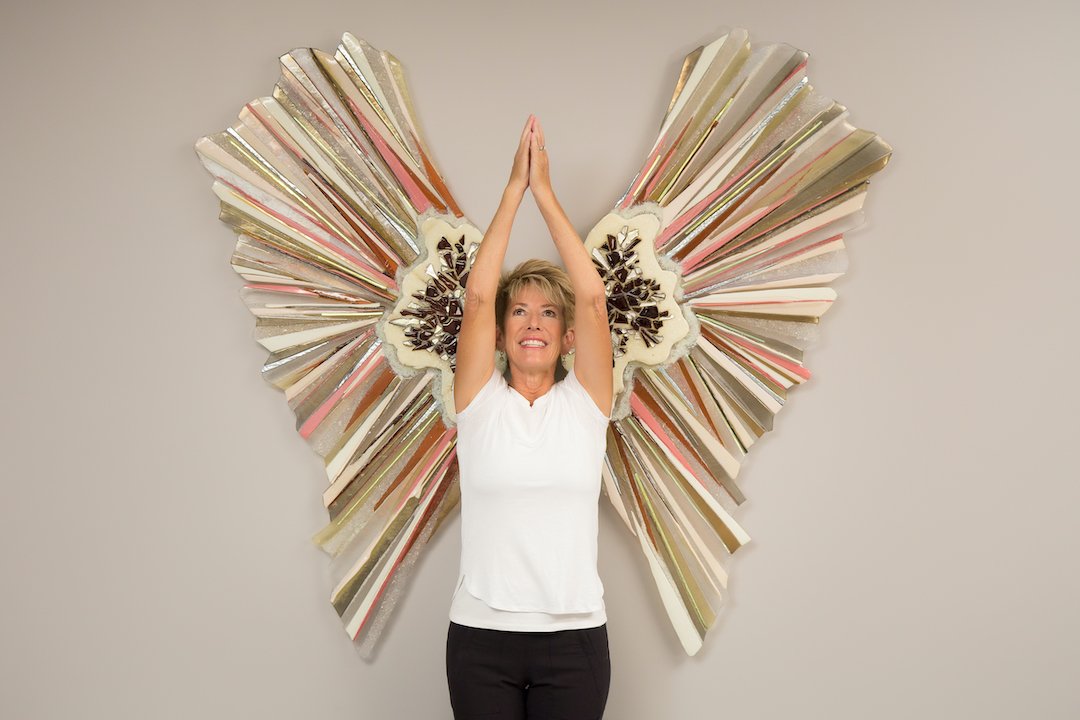 "My prayer is for my artwork to elevate your spirit to a new high, regardless if you're just browsing or are a current collector."
Each piece has a personal character inviting you in to not just look at it but to ask, "How does it make you feel?" I invite you to explore my artwork, including new works, commissions, and collaborations. I'd also love to hear from you. What moves you about these pieces? If you are interested in a commission of your own or would like to purchase a recreation of one of my original works, please visit my online shop or contact me.
ARTIST BIOGRAPHY
Cathy is particularly drawn to the vivid blues found in nature — representing both sky and sea, expansiveness, freedom, and intuition. Cathy's luminous pieces, with their vivid sapphires, teals, and turquoises, depict an emotional landscape of depth, wisdom, confidence, and faith. Cathy's azure pieces often stand alone, but she occasionally interweaves pearly pinks, emerald greens, and fiery oranges to create custom, one-of-a-kind pieces that have become immediately recognizable as her signature style.
An Artist's Path
Before embracing life as an artist, Cathy had carved out successful careers in fashion design, international fitness, and yoga instruction after earning a Bachelor of Fine Arts from the University of North Texas in 1980.
As a fashion designer, she spent 15 years designing ball gowns, wedding ensembles, and leather collections, in addition to owning a bodywear company. From there, she segued into a career where she taught fitness, yoga, and dance. From fashion to fitness, both have had a major impact on her art.
Refueling Her Artistic Fire
In 2009, Cathy decided it was time to refuel her artistic fire by bringing her creative energy to life again — this time with no limitations. With her husband's encouragement, Cathy delved into the world of glass artwork. She took professional glass art lessons and her instructor immediately recognized her talents. Her life has never been the same.
Cathy has created a style all her own, and her complex and energetic works of dimensional-fused glass art are all about texture. Today, Cathy melds together her love for color, dance, architecture, fashion, and nature into the inner workings of the body by fusing glass. This balance creates an emotion the viewer can hear or feel when interacting with the visual energy of the piece.
Luminous Inspiration for Many Settings
With her liberal use of color, Cathy's work is perfect for contemporary homes and businesses. Her work is distinctive through her nature-inspired use of luminous color. Her glass artwork adds pops of nature-inspired color to architectural design and a variety of residential and commercial spaces. Her handcrafted glass artwork is one of a kind and is featured in national galleries, private homes, government buildings, and more.
Select Awards and Showcases:
2014/2015: Works featured at LuminArte Fine Art Gallery, Dallas Design District (2013 winner for Best Art Gallery on the Dallas A-List)
Nov 2014: Denton County Artists' Tour
April 2015: Keller Town Hall Featured Artist with Barbara Hartman (large-scale exhibit with more than 50 of Cathy's pieces on public display)
Sept 2017: Convergence with Daniel Padilla at LMB Art Glass
Nov 2017: Fusion in Seaside, FL Solo Artist Show
Oct 2019: ADC Art Comes Alive; received Featured Artist Award
Feb 2020: Featured artist at Casa Hogar fundraiser held at Flora Farms in San Jose del Cabo, Mexico
Oct 2021 and 2022: Glass Artist of the Year: ADC Art Comes Alive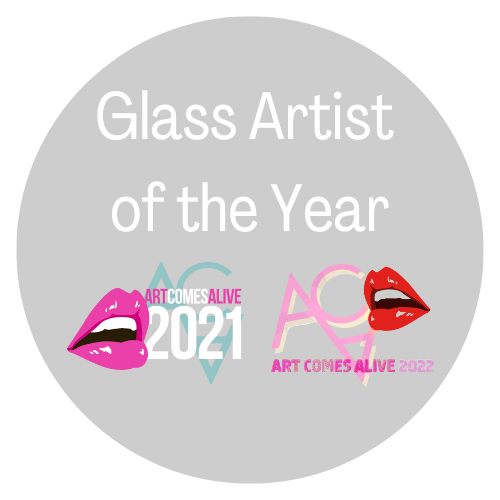 Cathy Shepherd was awarded Glass Artist of the Year by ADC Fine Art at the Art Comes Alive 2021 and 2022 Awards.